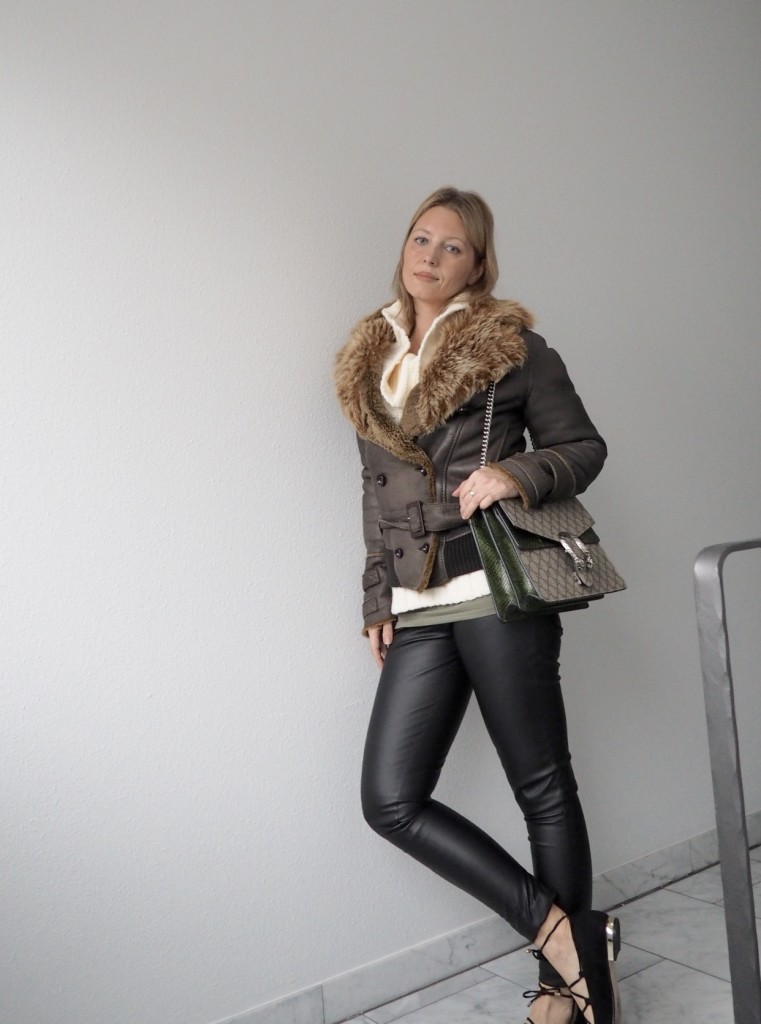 Lederleggings sind neben Jeans meine liebste Beinbekleidung momentan. Warum? Weil sie gemütlich, stylish und ziemlich warm sind. Allerdings: meine Leggings ist aus Kunstleder. Sie ist aber trotzdem unheimlich angenehm zu tragen, man schwitzt nicht in ihr, sie sitzt super und ist waschbar, also einfach perfekt! Dazu mag ich gerne dicke Pullover, was soll man auch sonst jeden 2. Tag tragen, wenn es mal wieder kalt draussen ist? Ich ziehe die Lederleggings auch im Büro an zusammen mit dem Pullover, damit es etwas schicker ist trage ich dazu dann noch einen Oversize Blazer und nette Ballerinas zum schnüren: et voilá mein Office Outfit ist fertig!
Draussen kombiniere ich Lederleggings und Pullover gerne mit meiner zugegebenermaßen nicht gerade neuen Lederjacke. Diese Jacke habe ich schon ein paar Jahre, aber sie immer noch toll und interessanterweise erinnert sie mich sehr an die wahnsinnig getypten Acne Lederjacken, die zur Zeit jeder haben muss. Da mir die Acnejacke zu teuer war und ist freue ich mich über mein Schätzchen das jetzt zu neuen Ehren kommt. Merke: viele Sachen sollte man behalten anstatt immer nur neues zu kaufen und das Alte zu entsorgen. Es kommt tatsächlich vieles immer wieder, da hat die Mama schon Recht gehabt! Übrigens: die Schuhe trage ich tatsächlich auch draussen, da ich nur einen kurzen Weg vom Parkplatz ins Büro habe und an den Füßen nicht so schnell friere wie sonst. Alternative: Uggs anziehen und im Büro/ Uni die Schuhe wechseln…..
Leather leggings are my favorite pants together with jeans at the moment. Why? Because they are comfy, stylish and warm. But: my leggings are faux leather, not real leather. They are very comfortable to wear, not sweaty, fit perfect and they are washable! I combine them with my cozy knit sweater, what else to wear when it is cold every second day? I wear my leather leggings at the office as well together with this sweater and to dress it up a bit I add an oversize blazer and ghillie ballerinas, et voila my office outfit is ready! Outside I combine the pants and sweater with an old leather/ shearling jacket. This jacket is quite a few years old, but it is still amazing and reminds of the hyped acne leather jacket everyone must have right now. To me the acne jacket was and is way too expensive and therefore I am so excited my shearling jacket that is featured again. Remember: many things should stay in your closet instead of buying new and throwing the old ones in the bin. Fashion items come and go and come and go, your mother is right with that quote! By the way: I wear the ballerinas really outside, because the way from the parking lot to my office building isn´t very long and I don´t get cold feet as easy as other parts of me are freezing. Alternative: wear your Uggs and change your shoes inside….
Jacket: Boss (Acne Studios here)
Leggings: Klaudyna Cerklewicz (get it here)
Pullover: H&M (similar here on sale!)
Shoes: River Island (similar here)
Bag: Gucci Dionysus (get it here)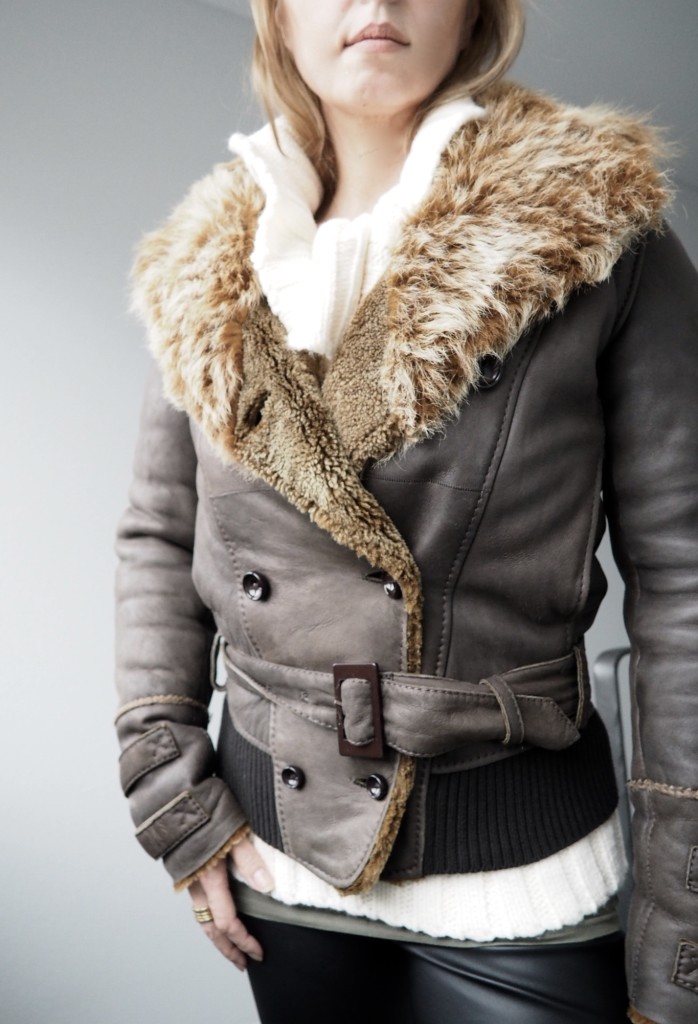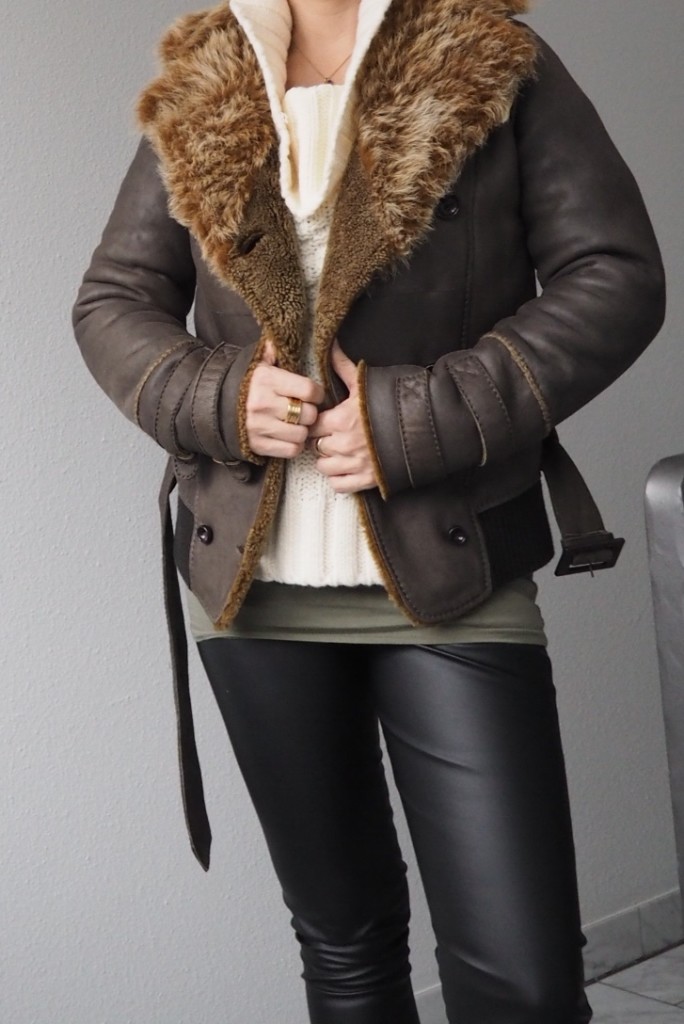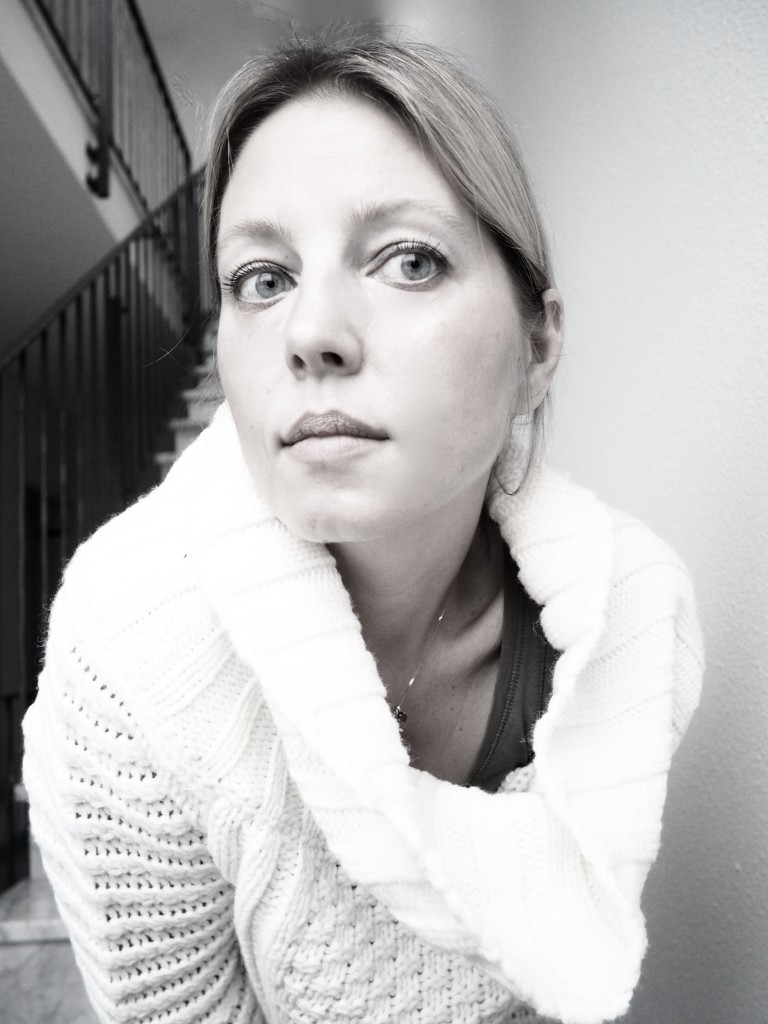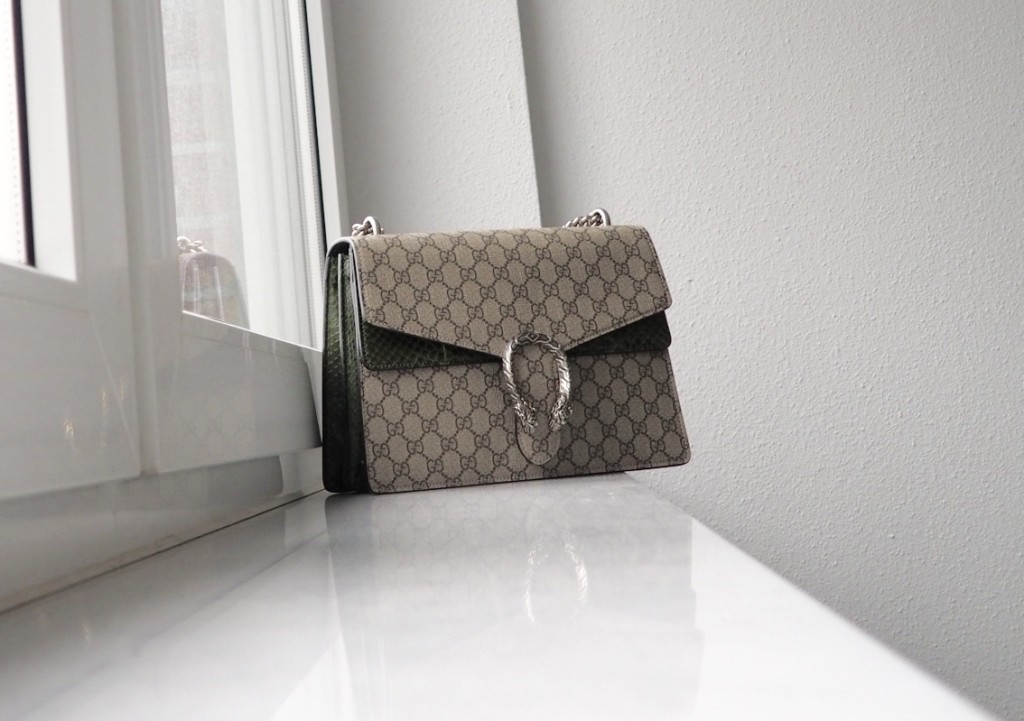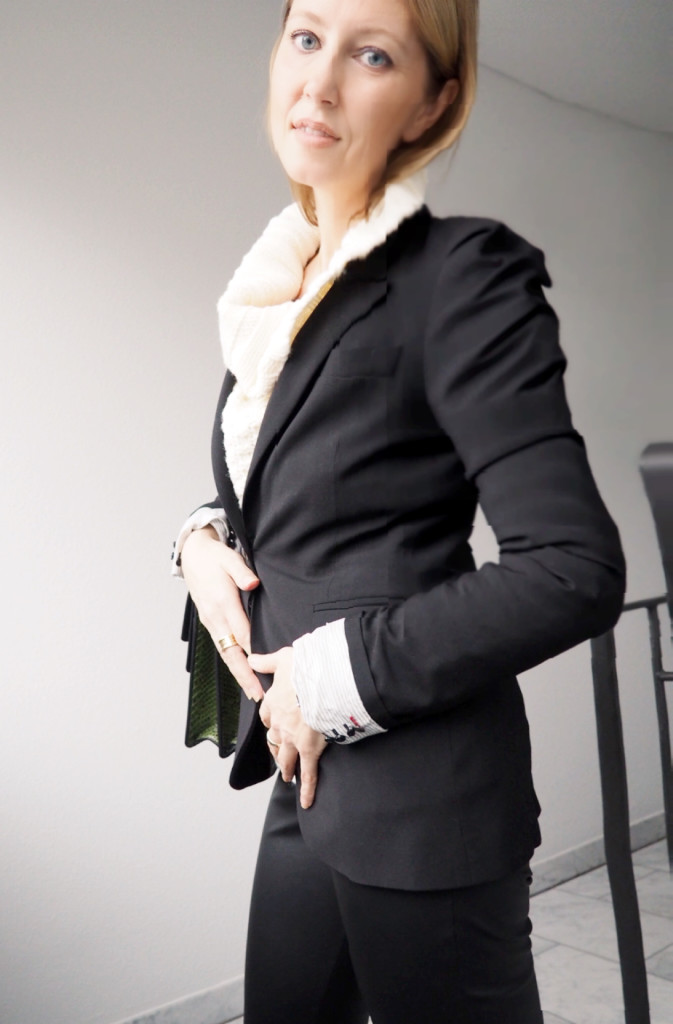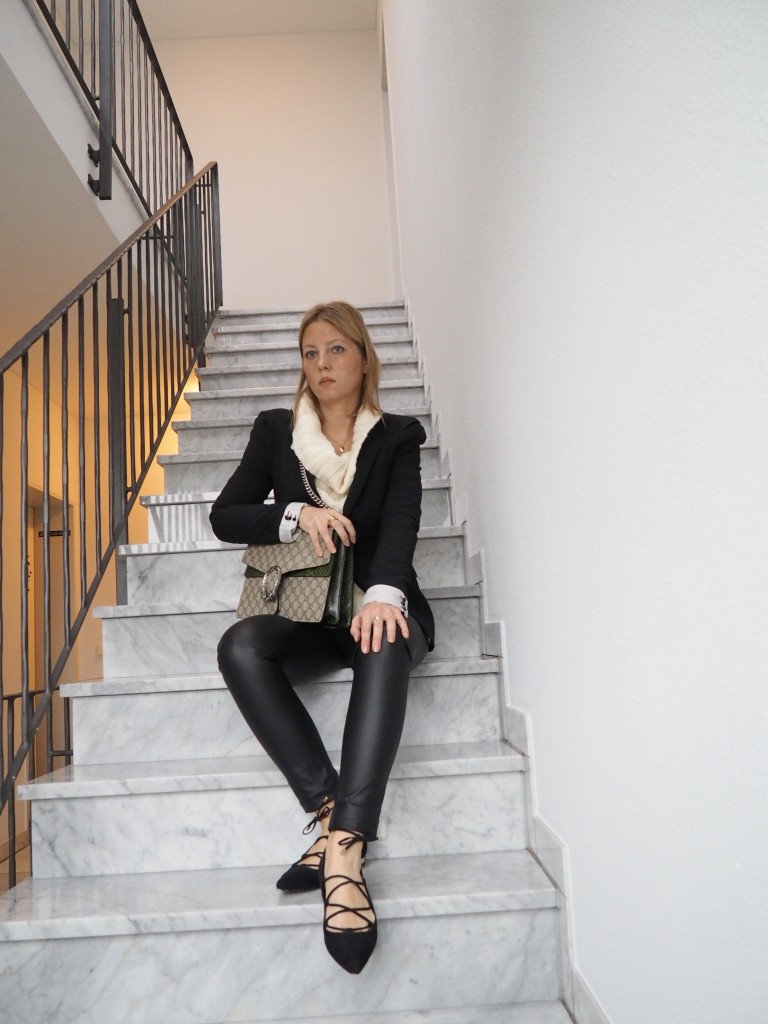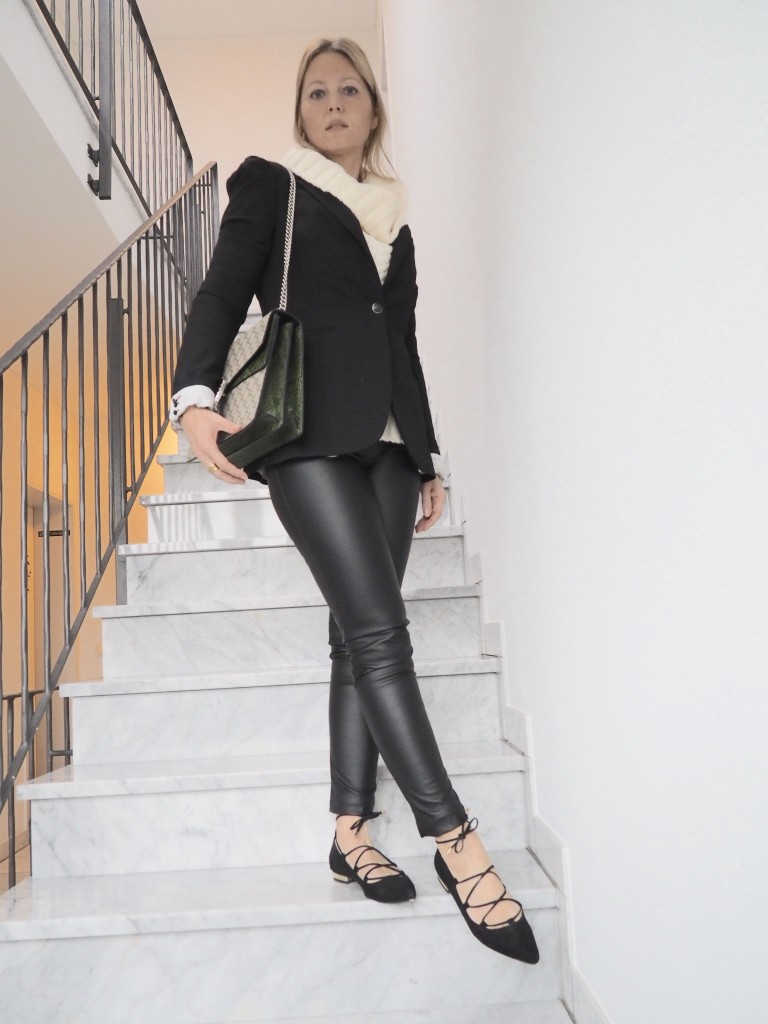 Photo credits: myself
Note: this is not a sponsored post.
love
Claudine