Red belt bag and Dior slingbacks
You know I have this thing with slingbacks. They are so versatile, perfect with jeans as well as with a suit or a mini skirt. I own many pairs of slingbacks, but currently these J'adior slingbacks are my favourites. Super stylish, super comfy – what do you need more?
When we were in Bonn I wanted to wear these shoes and pair them with my normal signature look: jeans and a white shirt. But something was missing: a pop of colour! So I gave my belt bag a chance. A chance, because  I didn't use it so far. I'm not quite sure if this is MY trend theme. Therefore I ordered this bag from Zara and skipped all the other beautiful designer belt bags. I was not ready for them. But now I'm hooked! So comfortable to wear, so easy to style and it adds that little bit, that transforms a look from uninteresting into special. The day was really perfect and we ended up in a beautiful hotel at the Rhine with a huge terrace, but that is going to be another story…
---
Shop the post

---
Rote Gürteltasche und Dior Slingbacks
Wie ihr wisst habe ich es mit Slingbacks. Sie sind so vielseitig, gleichzeitig perfekt mit einer Jeans, zum Anzug oder zum Minirock. Ich habe eine Menge davon, aber momentan sind diese J'adior Slingbacks meine Lieblingsschuhe. Super stylish, super bequem – was will man mehr?
Als wir in Bonn waren wollte ich natürlich auch diese Schuhe tragen zusammen mit meinem Signaturelook: weißes Shirt und Jeans. Aber es fehlte etwas: ein Farbtupfer! Also habe ich endlich meiner Gürteltasche eine Chance gegeben. Eine erste Chance, weil ich sie bis dahin noch gar nicht benutzt hatte. Ich war immer noch nicht sicher, ob das MEIN Trend ist, deshalb habe ich die Tasche bei Zara bestellt und die ganzen hübschen Designertaschen verworfen. Ich war einfach noch nicht soweit! Aber jetzt bin ich begeistert: so bequem zu tragen, so einfach zu kombinieren. Und eine Gürteltasche ist das i-Tüpfelchen, das einen Look von ininteressant in etwas Besonderes drehen kann. Dieser Tag war wirklich toll und endete in einem wunderbaren Hotel direkt am Rhein mit riesiger Terrasse, aber das ist eine andere Geschichte….
Love, Claudine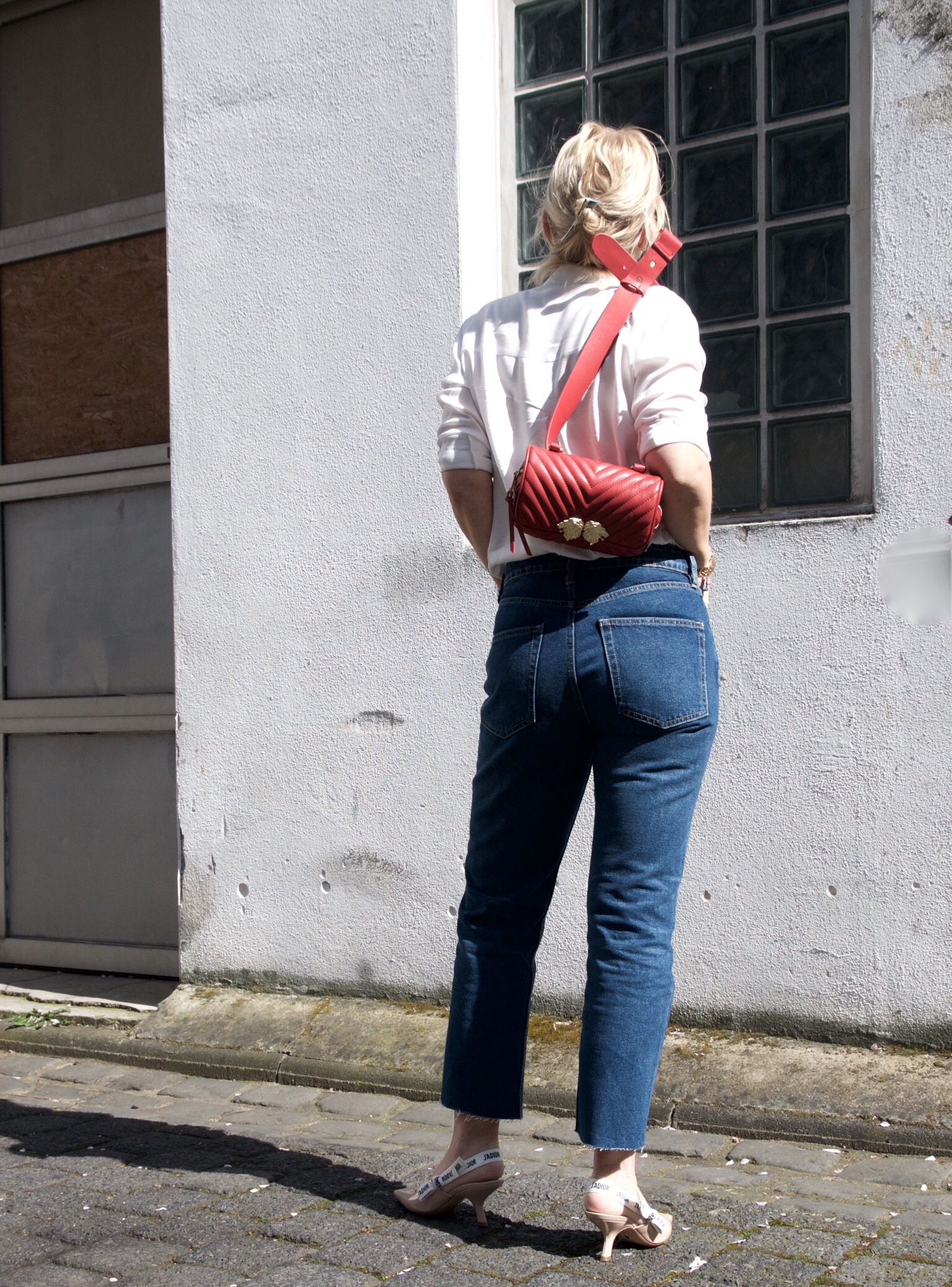 Belt bag: Zara (similar here), Shoes: Dior (online here), Jeans: Zara (similar boyfriend here), Shirt: unknown